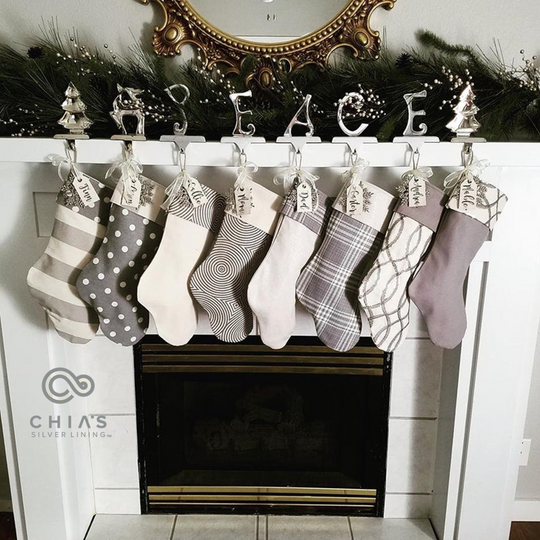 Stocking stuffers can be just as much fun as big gifts during Christmas time.  At
Chia's Silver Lining Wellness Boutique
we have lots of thoughtfully curated stocking stuffer gifts at a great price.  Whether you are purchasing gifts for Christmas, stocking stuffers or even just looking for a small little something for a co-worker or friend during the holiday - we have the gifts for you!
We offer curbside pick up or free local delivery. 
Chia's Silver Lining Wellness Boutique is here to help you with all your holiday shopping needs and hopes to take a bit of stress out of your day by making your holiday shopping experience stress free!  
Day 12
WINGMAN BACKPACK
$40
Sexy and modern design come together here and completely redefine the backpack definition. Features large front zipper pocket along with 2 additional smaller, uniquely shaped, diagonal zipper pockets for modern style. Large interior for all your items securely closes via top zipper. Additional side pockets for quick grab items such as your phone.  Perfect for travel or just to our doctor's office. Handsome looking fabric creates a minimalist look with functionality.
Day 11
Cruiser Shoes in Black
$18
These super comfortable EVA foam slip ons are designed to be stylish yet very practical. These light weight shoes are a great care package item for cancer patients for time in a hospital or recuperation at home, these slip ons don't need tying. Just slide your feet in and go. A perfect gift idea for a man battling cancer. 
Stocking Stuffer/ Small Gift Items for Everyone
Soy Candles
Give a state of deep relaxation with this soothing GMO free soy Organic Lavender blend that releases stress and promotes tranquility. Our candles feature an extended burn time and wonderful French lavender scent that fills any space with a rejuvenating fragrance that reduces tensions and promotes tranquility.  $16
Aromatherapy
This rareESSENCE Electric Travel Fan Diffuser is an easy way to diffuse Pure Essential Oils and Blends into the air for an aromatherapy spa experience anywhere - you go! $20
Raise your glass to a great Cause - Not only do you get a high-quality, beautifully designed piece of drinkware to fuel your body, but you can feel good about your purchase too. 25% of your purchase goes directly towards Chia's SL our 501c3 and helps to fulfill our mission of compassion, comfort and community. You'll know that you made a difference in our world. It's more than drink ware. It is our world, communities in need and people fighting for their lives. It's lifting our drink ware up for a cause we know is worth fighting for. If you had a choice between one product or another, what would you choose? A product that packs a punch for good or a product that just looks good? We've done both. We invite you to learn more about Chia's Silver Lining and our Product Mission. $28
Stocking Stuffer/ Small Gift Items for Men
SkeletonHD
SkeletonHD has the latest unique and authentic wrist gear and accessories. Our designs are crafted to show style and character. We use the finest precious stones with all our designs along with real gold, silver, and black signature skulls. $60
Olivina Travel Kit
The Olivina Deluxe travel Set  contains travel-sized essentials for every man that are perfect for stocking stuffers. $38
Shop Online at Chia's Silver Lining
Get your loved one's a gift they will love by shopping with us either online at www.chiasilverlining.com or by visiting us at our new Chia's Silver Lining Wellness Boutique at 5664 N. Mesa.  We'd love to help you find the perfect holiday gifts for someone in your life whether it is for the holidays or for wellness encouragement.  Since we can't be together - gifts mean more than ever.