Raise Your Glass to a Great Cause: CAUS Cups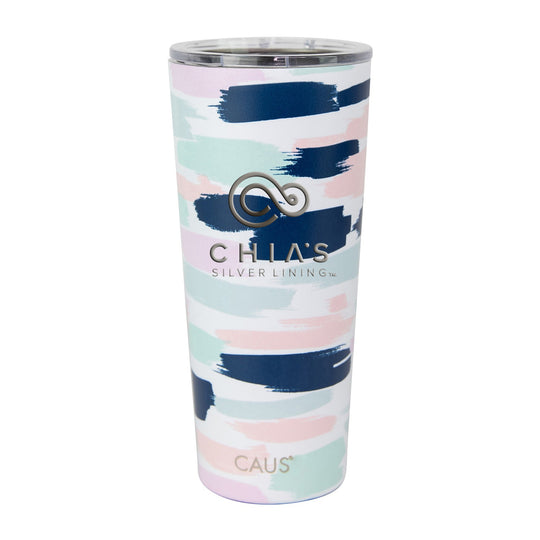 At Chia's Silver Lining our "CAUS" is based on three simple principals: Compassion, Comfort and Community.
Compassion
We strive to guide our clients towards wellness and comfort by consciously considering our client's unique needs while healing from debilitating illnesses. We believe knowledge gives us the power and strength to take control and heal. The Chia's Silver Lining resources and blogs further our goal of education, compassion and support thus adding to the quality of life for those surviving with cancer.
Comfort
Chia's Silver Lining Boutique provides thoughtfully curated care packages and gifts that includes an uplifting message that you can also personalize for your loved one.  Specifically, our product focus is anything that promotes overall wellness and comfort or the other side of healing. We also choose products whose companies have a philanthropic missions and giving back goals.  
Community
Here+Now Meetups are free of charge and support patients. survivors and their loved ones by promoting education, information sharing, social connection and a community of healing and emotional support.
We chose CAUS cups because their mission is to choose to seek positive change. Chia's Silver Lining and CAUS choose to work towards something good.
Not only do you get a high-quality, beautifully designed piece of drink ware to fuel your body, but you can feel good about your purchase too. 25% of your purchase goes directly towards Chia's SL our 501c3 and helps to fulfill our mission of compassion, comfort and community. You'll know that you made a difference in our world. It's more than drink ware. It is our world, communities in need and people fighting for their lives. It's lifting our drink ware up for a cause we know is worth fighting for. If you had a choice between one product or another, what would you choose? A product that packs a punch for good or a product that just looks good? We've done both. We invite you to learn more about Chia's Silver Lining and our Product Mission.