Chia's Silver Lining Grow & Glow Collaboration with Cristina Fernandez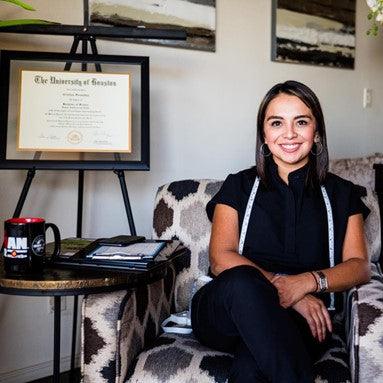 Cristina Fernandez was born and raised in El Paso, Texas. She attended The University of Houston from 2011-2015 and graduated with a Bachelor of Science in Human Nutrition and Food Science. During her undergraduate years she was an intern for Child Obesity Research at Baylor College of Medicine and after graduating she became a lead Research Coordinator for Research in Type 2 Diabetes in Baylor as well. During high school she was a long-distance runner for the track team in Immanuel Christian School and continued her running journey through college doing various marathons (Rock and Roll, Walt Disney World Marathon, Houston Marathon, El Paso Marathon, Dallas Marathon) and later began her triathlete career with a Half Ironman and ever since she has done 10 half Ironman Triathlons and 4 full Ironman Triathlons. She moved to El Paso in 2016 to begin a job with the City of El Paso as a Nutritionist for the WIC Program. During this time, she also obtained her certification as a USA Triathlon Coach and since then has coached various beginner athletes to do Ironman Triathlons. After working with The City, Cristina went back to research and has been with DaVita Clinical Research for 3 years as a research coordinator in the field of nephrology. Currently, Cristina is finishing her master's degree with the University of Arizona in Applied Nutrition and is looking forward to graduating in December of 2021.
Cristina and Chia feel they met through destiny. From the beginning their passion for total wellness and desire for community outreach and support made them a perfect match to bring their dreams to fruition. Since the first day they met they began brainstorming ideas on creating a project that could impact cancer surviving women. The journey began in January 2020 with 5 cancer survivors. Together, Chia's Silver Lining and Christina Fernandez, sponsored, trained, and prepared these ladies to participate in the Mighty Mujer Triathlon in June of 2020, despite COVID-19.
Chia and Cristina want to continue their efforts to impact cancer survivors' lives and help them to achieve their maximum potential. Their next community outreach program is Grow & Glow. The Grow & Glow project invites 40 women in a wellness journey to change their lives forever.  Through proper nutrition, exercise, and continuous support, participants will have an opportunity to become the healthiest version of themselves.
The Mission of Grow & Glow is to educate women on making lifestyle changes to optimize their health while enjoying their wellness journey alongside other women in this community.
The goals of this program are to increase awareness and encourage lifestyle habits contributing to well-being. Inspire and empower individuals to take responsibility of their own health. Support and encourage a sense of community. Motivate women to accomplish fitness goals and educate women on nutrition through consultations with Cristina Fernandez a Clinical Researcher, Nutritionist and USA Triathlon Coach.  Cristina in partnership with Chia's Silver Lining local leaders in health and wellness, medicine, yoga and cycling instructors will educate and inspire our participants towards mindful health and wellness.
The Grow & Glow Program will officially begin July 19th and will culminate December 10th with a wellness retreat. This program will require a commitment of weekly nutrition classes, guest speakers and fitness courses (ie: yoga, hiking, cardio, weight training, cycling etc.)
Get ready for a journey that will change your life but also give you the opportunity to be inspired and motivated by amazing people in our community!
Submission entry form deadline is July 9th, 2021!
Download submission form Here! or click here for an online submission form.
For hard copy entries, please scan and submit your entry to info@chiasilverlining.com.
For further inquiries please contact info@chiasilverlining.com.