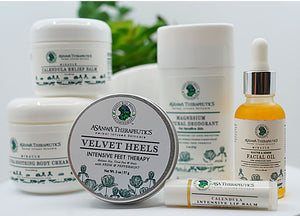 Skin Care Products for Chemotherapy and Radiation
Chemotherapy and radiation can take a huge toll on the skin.  This skin care package is specially formulated to soothe and nourish the skin and is beneficial to anyone with skin in need of extra loving and care. We combine the power of soothing herbs, natural butters and oils that promote healthy skin.
Gift your loved one this head to toe skin care package so their skin is one less thing they have to worry about.
Make them feel extra special by a including a personalized gift message (no extra charge).
Contents: 
Magnesium All Natural Deodorant for Sensitive Skin
Calendula Relief Balm / Salve to help with minor burns, skin irritations, dry skin or rashes. 
Ultra Soothing Body Cream
Soothing Facial Serum
Calendula Intensive Lip Balm
Velvet Heels Intensive Feet Therapy