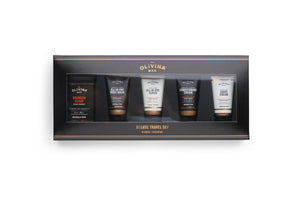 Traveling can be difficult but with this Deluxe Travel set you'll have all you need to get away without any worries. This box contains travel-sized essentials for every man that are perfect for recuperation and for extended hospital stays. This is a great gift for a male cancer patient. 
All products are certified organic.
This box contains:
Aluminum-Free Deodorant (Bourbon Cedar) 3oz
Safely fight odor-causing bacteria with this Aluminum-Free Deodorant. Our gentle formula is easy on sensitive skin and doesn't stain clothes. The gentle aroma of Bourbon Cedar keeps you feeling fresh and confident all day long.
Apply: use any time; underarms only.
Hair, Face, & Body All-in-One Body Wash (Bourbon Cedar)
Pare down your regimen with our All-in-One Body Wash. Refresh face, body, and hair with just one effective formula. This balanced cleanser removes dirt and grime without leaving you dry or oily. Whether you're a minimalist or just packing light for the weekend, this multifunctional wash is all you need.
Exfoliating All-in-One Scrub BOURBON CEDAR 2.5oz
Deep clean from head to toe with our Exfoliating All-in-One Scrub. Dead skin and other impurities can build up on follicles, making shaving or moisturizing less effective. Clear the way with this botanical blend of walnut shell and white birch.
WARNING: CONTAINS TREE NUT BY-PRODUCT
Rinse Out | Leave In Conditioning Cream (Bourbon Cedar)
Our dual-purpose Conditioning Cream helps strengthen hair, promote healthy growth, and boost natural shine with a nourishing blend of organic olive oil, elderberry, and barley protein. With two methods of application, this conditioning cream works in any schedule.
Rinse out: to soften and restore hair, apply after washing and wait for two minutes before rinsing.
Leave in: to add control and natural shine, warm in hands and work through dry hair.
For best results, shampoo with our All-in-One Body Wash.
Conditioning Shave Cream (Bourbon Cedar)
Bring skin to attention with this caffeine and antioxidant-rich blend of yerba mate, organic hemp seed oil and bisabolol. Our Conditioning Shave Cream helps ward off nicks and bumps, redness, and dryness for a clean, comfortable shave.
Pre-Shave: For best results, begin by applying our 2-in-1 Shave Prep & Beard Oil.
Shave: Mix Shave Cream with warm water on a shave brush or your hands to create a rich lather. Massage onto face and you're ready to go.