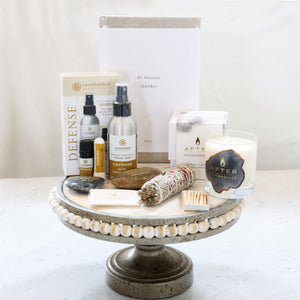 Our Care Packages support those going through grief, loss, or difficult life transitions. These compassion care packages are most appropriate for immediate family such as parents, siblings, child or partner of the person who has died. Sending a gift for grief, loss, or sympathy shouldn't have to be the same old greeting card or flower bouquet. We handpick items to help you give rest, calm, and peace during difficult times in life. Select a pre-designed gift care package beautifully created just for your recipient's unique situation. After a life altering event, nothing says "I am with you" more than this act of compassion!
Package Includes:
Defense Aromatherapy - Breath Deep Be Well-This is the time to put up your best defense with a comfort pack of 100% pure essential oil kit. Expertly formulated with three pure essential oils of tea tree, eucalyptus & clove. Includes: Room mist, Essential oil blend, Inhaler
Sage Bundle - The name sage comes from the Latin "salvia', which means, to feel healthy. Burning sage is a ritual from centuries past to promote healing and wisdom. It is calming to the gut and calming to the mind.
AFTER Candle - This remembrance candle lends a hand when life is split in two- the life before and the life after. Light this candle as a healing ritual and let the aromas fill your spirit.
My Healing Journey (Grief book) - Writing brings healing. Powerful research shows that writing not only heals us emotionally, but physically. As you move your pain, trauma, and grief onto paper, your heart will mend bit by bit. Write honestly, openly, and regularly, and you will find hope and peach.
Tissue- Delicate tissues to softly wipe away your grief.
Courage Rocks - These beautifully engraved rocks are meant to inspire, motive, uplift, heal and encourage. These tiny but mighty rocks are used as sustainable gifts, meditation tools and a daily reminder that life is tough but so are you!