Win a FREE CaringBand Bracelet in our Valentine's Day Challenge!!!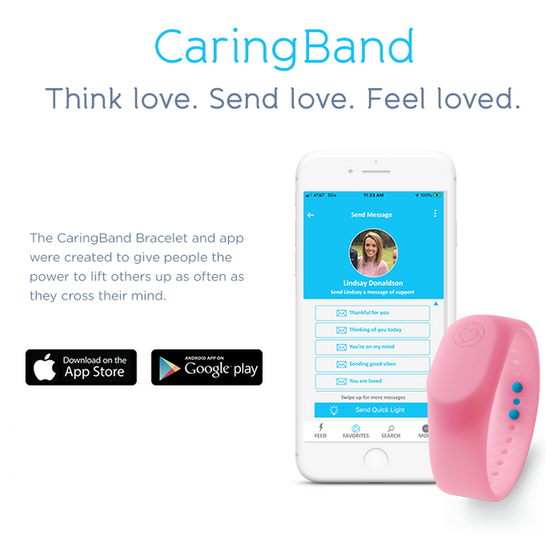 CaringBand Contest!
Chia's Silver Lining is so excited to announce they'll be giving away 20 CaringBand bracelets in our Valentine's Day Challenge.
CaringBand is a bracelet that helps you send love to anyone going through a difficult time. As the COVID-19 pandemic isolates us, there has never been a more important time to safely connect with loved ones.
With the CaringBand bracelet and app, encouraging thoughts should never be lost and we are so thankful to Charley Donaldson, owner and innovator of CaringBands, for giving us this amazing and generous opportunity to give away 20 CaringBand bracelets in the El Paso area.
This is technology with Heart and is a mission that Chia's Silver Lining is so excited to promote.
Learn More About CaringBand
We had the pleasure of interviewing Charley and he explained the CaringBand concept.
Q: Charley, can you tell us about the "Love In Real Time" concept?
A: When someone receives a notification on the CaringBand bracelet it means that someone is thinking about your well being at that very moment.
Q: Can you explain why this is a safe platform for all?
A: CaringBand provides the option to only receive pre-set messages therefore prevent others from saying the wrong thing or worse, hateful misuse. Another option to to only receive messages from people you choose. 
Q: Tell us how this kind of communication gives more encouragement ill or isolated friends and loved ones.
A: CaringBand is not meant to preplace in person interaction but rather provides the opportunity to allow more people to reach out more often. 
Q: What was your motivation for creating CaringBand?
A: My mother in law, unfortunately, got breast cancer.  One day my wife said to me, " I think about her more often than I tell her".  This struck a cord with me and I took that idea and developed the CaringBand.  And happily my mother in law is now a breast cancer survivor. 
How to Win a CaringBand Bracelet
This contribution to our community is so valuable and heartfelt, and this is how you can win a CaringBand bracelet for yourself or a loved one in our Valentine's Challenge.  
Send Us a Story
Please email info@chiasilverlining.com by February 12th and tell us in 400 words or less about you or your loved one's  journey to wellness, whether it be cancer treatment, long term illness or COVID-19 and how you or a loved one can benefit from receiving a CaringBand. We want to help break isolation and loneliness by providing a way to reach out to loved ones in hospitals, quarantine, or nursing facilities.
Think Love, Send Love and Feel Loved.
To learn more you can also go to our website www.chisilverlining.com or our Chia's Silver Lining Facebook page.
We know that encouragement uplifts the spirit and that love has the power to heal. The CaringBand Bracelet and App helps you send encouragement, support and love to those in need easily, often and without any extra burden to the wearer. It is Technology with Heart.
Thank you Charley Donaldson for donating 20 CaringBand bracelets for our Valentine's Challenge giveaway.

Chia Silver Lining is looking forward to reading and sharing your stories and as always at your health and wellness in mind, body and spirit is always on our minds.