How to Support Someone with Cancer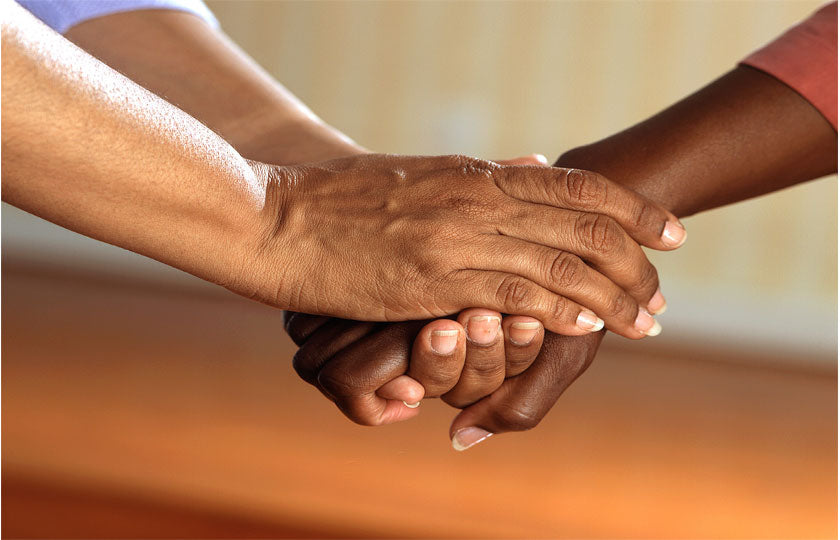 If someone you care about has cancer, you're probably wondering the best method to support them. Even though you just want to help, it can be difficult to know what to do or say.
It's important to keep in mind that there are no specific rules and every friendship is unique. Be sure to understand your unique dynamic and let that direct you as you try to be there for your friend. Make it simple. Keep in mind that often the smallest things mean the most.
Think Before Talking to Someone with Cancer
Here are some important things to consider prior to talking to a friend who has cancer:
Understand your own thoughts first.
Knowing that a close companion has cancer can be tough news to bear. Make time to understand and cope with your own feelings about the illness before you see him or her. That way, you can keep the focus on your friend.
Understand the diagnosis.
Your friend may not want to discuss the details for a lot of reasons. It can be emotionally and physically tiring to recite the same details to different people. If possible, the person's spouse or close friend may be able to give you the details. Write it down and recite it back to them so they understand you have the correct details. If there's information that's not shared or unknown, do not press for additional details.
Think from your friend's outlook.
Recall a moment you were scared or felt ill. Think about what that felt like. What did you want to discuss? How did you want to be treated? You may also have to prepare yourself for changes in your friend's appearance. Fatigue, loss of weight, and loss of hair are frequent side effects of cancer and many treatments. Start your visit by saying "I'm happy to see you" instead of speaking about any physical changes.
Useful Information to Know When Supporting Your Friend
Although each cancer patient is different, here are some more broad suggestions to display support:
Ask permission. Before you visit, give any advice, and ask questions, ask if it's appropriate. Make sure you're clear to your friend that saying "no" is perfectly fine.
Make arrangements. Don't be scared to make arrangements for the future. This will give your friend something to look forward to, especially considering cancer treatment can be drawn out and tiring.
Be fluid. Make flexible arrangements that are simple to rearrange in case your friend needs to reschedule or cancel.
Have fun and laugh together. Be humorous, spontaneous and fun when appropriate and when needed. A normal genuine conversation or a funny anecdote can make a friend's day.
Allow for moments of unhappiness. Do not disregard uncomfortable subjects or feelings.
Make sure they're alright. Create time for a routine check-up or phone call. Allow your friend to know when you'll be contacting them. Also, let your friend know if they don't want to talk on the phone, that it's okay.
Offer to help. Many people find it hard to ask for help. But your friend will likely appreciate the offer. You can offer to help with specific tasks, such as taking care of children, taking care of a pet, or preparing a meal. If your friend declines an offer, do not take it personally.
Touch base. If you have committed yourself as a person that's going to help, make sure you fulfil your promise.
Treat them normal. Don't let your friend's condition get in the way of your friendship. In as many ways as possible, treat your friend the same way you always have.
Don't just talk about cancer. Talk about hobbies or interests, or any other subject matter other than cancer. People going through cancer would appreciate, more often than not, a chance to not have to talk about the disease.
Read your friend's blogs, social media posts and emails. A lot of people living with cancer choose to journal their experiences for friends and family. Sometimes it's family members that post updates in social media or website verticals. Stay up to date with these so your friend doesn't have to repeat themselves. These updates are also great conversation pieces.
What to Say to Someone with Cancer
Don't be afraid to talk to them! It's better to say, "I am not sure what to say" than to stop calling or visiting out of fear.
Here are some things you can say to show you support them:
I'm sorry you're going through this.
If you want to talk. I'm always available.
What are your plans and how can I help?
I care about you.
I'm thinking about you.
Here are examples of phrases that are unhelpful:
I know just how you feel.
I know just what you should do.
I'm sure you'll be fine.
Don't worry.
How long do you have?
Always remember there's multiple ways to communicate. If you're not going to be seeing your friend often, a phone call, video chat or text message can show that you care. Also, let them know it's okay if they don't reply.
Offer Practical Help
Help with daily tasks and chores can be very useful for your friend. Be creative with what you can offer. Keep in mind your friend's needs may alternate, so be fluid in moving your plans as needed. Let them know when you're available in case a spontaneous need comes up..
If your friend has difficulty accepting the help, let them know it's of no bother to you and you're happy to do it. To avoid being pushy, try asking for help with specific tasks as compared to "how can I help", which might be overwhelming for your friend. Here are some related tips to get you started.
Grocery shopping or picking up medicine.
Household chores.
Cook dinner and drop off meals
Schedule a night of takeout food and movies together
Baby-sit children, take them to and from school and activities, or arrange for play dates.
Organize a phone chain or support team to check on your friend regularly
Drive your friend to a support meeting or doctor's appointment. Be there to take notes during an appointment or just provide company during treatment.
Take a walk together
Remember the little things you used to do with your friend to make life feel normal. See if you can make these activities more accessible.
Offer to make difficult phone calls. You can also gather information and resources about certain things they'll need to know.
Find ways to support your friend if they decide to have a fundraiser or an outing.
Form Support Teams
Putting together a support group is a great way to support someone who has cancer. There are many only communities working to bring people together for charities. Public online calendars you can share with others help you coordinate activities. Paper calendars are good if you want to make the calendars by hand. Make sure your friend has a copy of this calendar also.
Gift Ideas for People with Cancer
There might be times you want to give your friend a gift. Just like any other gift, make sure you know your friend and what they may want. Close friends will be able to think of ideas that are funny and unique.. Neighbors, distance family and acquaintances will stick with more generic ideas. Keep gifts entertaining, sentimental, deep/meaningful or festive based on the mood of your friend.
Some ideas include:
Magazines, audio books, novels, books of short stories or poetry, or gift cards to purchase reading material
CDs or gift cards for downloadable music
DVDs of movies, TV shows, or documentaries
Pictures of friends and family
Accessories such as earrings, bracelets, scarves, ties, hats, or beauty items
Crossword or Sudoku puzzles
Note cards or a journal
A video message from family and friends
Gift certificates for massage, spa services, restaurants, or passes for museums or an art gallery
Gift cards to grocery stores
A housecleaning service
Portable hobby supply kits for scrapbooking, drawing, or needlepoint
Pajamas or robe
Balloons
Flowers or plants
Friendship is Very Important
Keeping friendships going as normal are important to the healing process after one has been diagnosed with cancer. Remember friends also need encouragement and support after cancer treatment is over. After treatment, your friend will be looking to get their lives back to normal. Friendships are very significant when it comes to this. Keeping these suggestions in mind can have a positive lasting effect on your friend.