Gift-giving - Show someone you care about them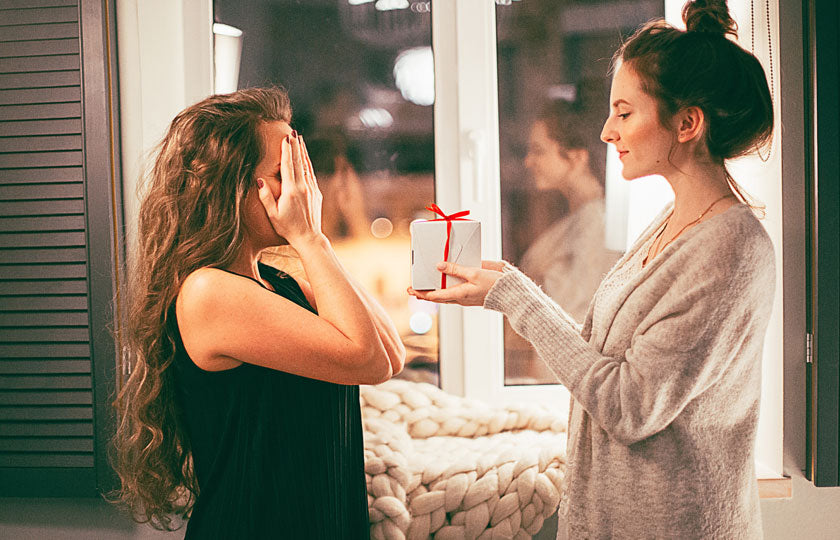 Whether it's given in the spirit of celebration, hope, or "just because," gift-giving is a way to show someone you care about them. When a loved one has cancer, you may be unsure of what type of gift to get them.
If you don't know what it's like to live with cancer, a well-intentioned gift could turn out to be a not-so-good one. For example, gifts that focus on or remind a person of how cancer has changed their body.
When you talk with your friend or loved one with cancer, you'll likely find that they don't expect you to know what they're going through (after all, they were probably in the same place before they were diagnosed).
A good place to start your search for the perfect gift for a friend with cancer is talking to them about what they want and need, as well as what they'd prefer to avoid or get a break from.
1. Chris Bernard
When undergoing cancer treatment comfort is key. Treatment can involve hard plastic chairs and uncomfortable examination tables or take place in cold clinics and hospital rooms that may not feel especially homey.
Speaking of home, your friend may not feel up to leaving the house unless they have to, such as for a doctor's appointment or treatment. They likely cherish the comforts of home more than ever when they're feeling ill.
Consider giving your friend some soft, cozy socks, slippers, pajamas, or robes. Sheepskin and chenille items are especially comfortable. A warm and luxurious shawl or fleece blanket is the perfect way to wrap a friend up in love and comfort. The fuzzier, the better!
Don't worry about what color or pattern they would prefer. You can even choose a color or pattern which reflects your tastes, which can serve as a reminder of your friendship during the long and often lonely days of cancer treatment.
Add a note that describes the meaning behind your gift, such as "Here's a little warmth for the times I can't be with you."
2. Stress Relief
Stress is an unwelcomed and uncomfortable experience for anyone, whether they have cancer or not. Aromatherapy pillows, eye masks, and even stuffed animals made with essential oils may help some people manage cancer-related symptoms.1
While no studies on using aromatherapy in cancer patients have been published in peer-reviewed journals, several clinical trials have suggested essential oils might have the potential to help cancer patients deal with sleep, nausea, and anxiety.2
You may wish to enclose a note with your gift letting your friend know they can "vent" their feelings to you—whatever those feelings may be.
People with cancer are often told to keep a positive attitude, but this advice can be harder to put into practice than to give.
While there are no scientific studies that indicate constant positivity improves survival for people with cancer, research has shown that holding back negative emotions can raise stress levels.
3. Keep 'em Entertained
Activity levels wane during active cancer treatment and cancer fatigue is a given (even when someone isn't currently having treatment). Books and movies can be an excellent way to escape for a few hours.
An engrossing thriller, a good mystery, a thoughtful biography, or a laugh-out-loud comedy can be great entertainment, but there may be times when your friend wants something more topic-specific.
If your friend wants to read up on cancer, there are many books to choose from across many different genres. Here are a few best-selling options:
"5 Lessons I Didn't Learn from Breast Cancer" by Shelley Lewis
"It's Not About the Hair: And Other Certainties of Life and Cancer" by Debra Jarvis
"Chicken Soup for the Breast Cancer Survivor's Soul: Stories to Inspire, Support and Heal" by Jack Canfield, Mark Victor Hansen and Mary Olsen Kelly
"The Breast Cancer Survival Manual, Fifth Edition: A Step-by-Step Guide for Women with Newly Diagnosed Breast Cancer" by John Link
"Why I Wore Lipstick to My Mastectomy" by Geralyn Lucas
Your friend may not want to read, watch, or hear anything about cancer. If you don't know what kind of books or movies your friend is interested in (or is not interested in) consider sharing some of your favorites. You may just help them find a new author or genre.
4. Warmth and Style
Thinning hair and chemotherapy-related hair loss can be especially bothersome as the weather turns chilly. Even if your friend wishes to go au naturel, they might change their mind when the temperature drops.
Colorful hats, scarves, and bandanas can help keep a friend covered up in style and even put a little "spring" back in their step.
However, don't focus on appearance. Let your friend know they're loved just as they are and that they can "take their hair off" around you without judgment.
5. Food
For a foodie friend, treating them to a meal at their favorite restaurant or giving a gift certificate can be a thoughtful option. However, there are a few things to keep in mind before giving food-related gifts.
Make sure the eatery has a large and varied menu. It's not uncommon for a person's taste buds to change during cancer treatment, meaning "old favorites" can become subject to new allergies and sensitivities.
Cancer and its treatment can put a person off food, as nausea and vomiting are frequent symptoms of chemotherapy. Your friend also may not feel up to dining out or needs to avoid public places due to a worn-down immune system.
Another option is looking for places nearby that could bring food right to your friend's door. In a larger city, you'll likely have your choice of services that offer "pick up fresh" and delivery options for meals, snacks, and even groceries.
Even though your loved one may appreciate friends and neighbors bringing over hot meals from time to time, they probably didn't have a choice of the food they received (or how much).
A friend with cancer having a hard time staying nourished would likely appreciate a gift that gives them the ability to order-in exactly what they want to eat, when they feel like eating it, all without having to go to the store or cook.
6. A gift certificate for a massage may sound like a good idea, but if your friend has lymphedema, healing surgical wounds or painful joints, bodywork could actually be painful.
Take care with soaps, lotions, and spa gift sets—even most organic products may contain scents or irritants that your friend may not be able to tolerate.
If you have your heart set on this type of gift, here are a few suggestions for making it work:
Ask boutiques and salons if they carry specialty products designed for cancer patients. Look for products that are scent-free or scentless and not made with common skin irritants. Give gift certificates, which will allow your friend to pick out exactly what they want or need. Make sure the gift you choose is fully refundable.
7. Jewelry and Keepsakes
Many in-person and online stores sell bracelets, necklaces, keychains, and other keepsakes to raise awareness for nearly every type of cancer. In many cases, some or all of the proceeds go to cancer research.
Often, the design correlates with a cancer awareness campaign's color (such as pink for breast cancer), but you may also be able to customize it with charms that express a particular sentiment or message (Hope, Joy, Courage, and Love) or a personal inscription.
8. Sometimes, a great gift isn't a material good at all. It may be that what your friend needs is something you can do, rather than buy, for them.
Personalized gift certificates or coupons are endearing and come in handy when your friend isn't feeling 100%. Just be sure to make gift certificates specific.
For example, you could design and print a coupon your friend can redeem for a day of housecleaning, a night of home cooking, or a week of grocery shopping.
Simply offering an hour of "help" is vague and is more likely to result in the gift certificate going to waste. Ask yourself what things your friend might not even think to ask for help for (or may not want to ask for help for), such as washing windows, planting flower boxes, or cooking a child's favorite meal.
Specific coupons can be a welcomed relief for someone who is overwhelmed by decision-making related to treatment, managing symptoms, and other aspects of living with cancer.
9. Assemble a gift basket with things a friend might need during and after cancer treatment. Magazines, journals, organic lip balms or aloe to soothe chapped skin, a squishy stress ball, cozy socks, aromatic candles, plus crackers, ginger candy, tea, and/or a favorite snack, are just a few ideas.
While it might take a little more effort, putting together a do-it-yourself gift shows your friend that you took the time to think of them in a way a quick gift doesn't.
The variety of a gift basket can also add some novelty and pleasant surprise to your friend's day, which may have been reduced to managing appointments and coping with treatments.
10. Support a Charity
For a friend who insists they have everything they want or need, recognizing them by supporting an organization that doesn't can be a thoughtful alternative.
Most cancer research organizations, hospitals, and societies maintain charitable programs where people can make one-time or monthly gifts, as well as arrange legacy giving. Givers also reap the tax benefits of making charitable donations.
An institute's year-end financial reports will list the areas of research which are invested in as well as the percentage of each dollar directed to administrative costs (often referred to as the "facilities and administrative rate" or F&A).
Look for organizations devoted to specific cancers, such as LUNGevity for lung cancer survivors and the Leukemia and Lymphoma Society. Many organizations devote a large percentage of their bottom line to supporting people with cancer and looking for cures.
A Word From Verywell
If you're still contemplating the perfect gift, it might help to try stepping into your loved one's shoes to better understand what it's like to have cancer. Acquainting yourself with the list of what to pack for chemotherapy will also be helpful.
Finally, remember that support for people with cancer goes far behind gifts. Just being there to listen and show you care about them can mean a lot.