Sleep Cap - The Dream Cap by Encelia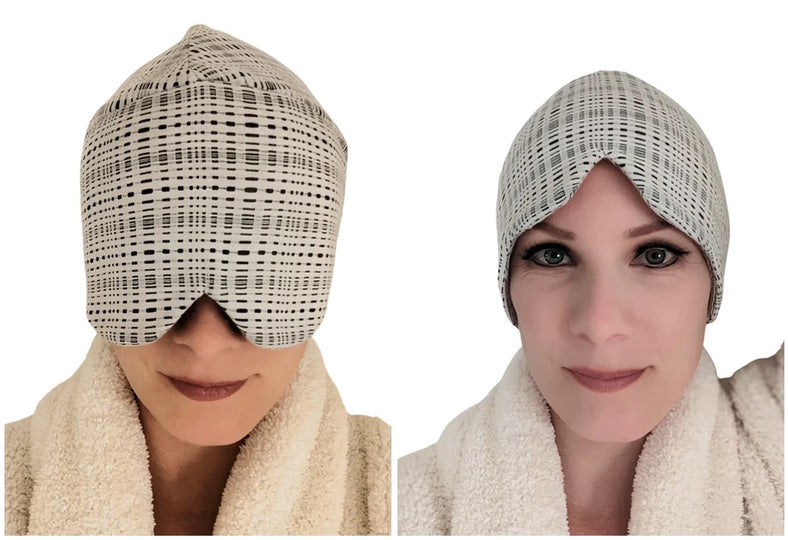 Sleep Cap - The Dream Cap by Encelia
Modern Chemo Cap With A Built-In Sleep Mask
I am a totally bald woman, and I have literally tried everything - chemo caps, bamboo sleep caps - and nothing would stay on my head at night. Without hair, most caps just slide off. 
I would wake up in the middle of the night freezing, searching for my hat. Frustrated, I have spent a year, designing a modern sleep hat for baldies that would stay on all night long!
A sleep cap (also known as a night hat or bonnet) are hats that are supposed to help keep your head nice and cozy so you can sleep comfortably at night but do they actually keep us cozy? As you may know, when you lose your hair, your head gets cold very quickly.  
The Dream Cap by Encelia is a modern chemo cap with a built-in sleep mask that is cozy, chic & stays put! I absolutely love sleep masks, so I thought, "why not make a really amazing sleep mask the focus instead of the hat." 
Our sleep mask is lightweight and light blocking. You can sleep well anywhere - chemo treatments, hospital stays, and at-home for recovery. Our strong elastic back perfectly hugs the back of the head, keeping it firmly in place all night long.
It also comes in two sizes for a snug fit: medium (designed to fit smaller heads) and large (designed to fit medium to larger heads).  
Our fabric is buttery soft, featuring two collections:
OEKO-TEX certified lightweight cotton flannel for a super cozy feel and,
Cooling mesh which is ultra-lightweight, breathable ideal for anyone who runs hot or doesn't like wearing hats.
To help make wearing this sleep hat extra special, Encelia includes a fabric pen with every hat so you or your loved ones can write love notes inside the lining. My vision was that every night you would take in and put on all that love! 
Unlike all the other chemo caps on the market, my mission with The Dream Cap was to create something that you actually loved wearing.
My hope is that it will make wearing a hat at night a bit more enjoyable. 
Comes from the heart,
Allison
Founder of Encelia Hair