How Barnett Harley Davidson Helps Others with Cancer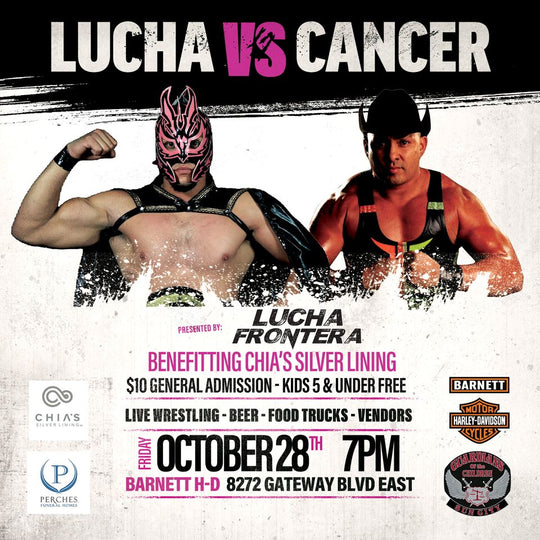 Chia's Silver Lining and Barnett Harley Davidson may seem like an unusual combination, but it's actually a match made in heaven. 
Chia's Silver Lining worked with Barnett Harley Davidson to raise money during Breast Cancer Awareness month at the Lucha vs Cancer event at Barnett Harley Davidson.
Chia had the special opportunity to meet Mark Barnett in his beautiful showroom to learn a little more about his personal connection to cancer and his passion to support charitable organizations and the El Paso community.
The History of Barnett Harley Davidson
Sherman Barnett and Christy took over the El Paso branch of Harley Davidson in 1977.  They took the branch to a whole new level by being the first Harley Davidson story to open a "designer store". In 1996, Barnett Harley Davidson opened their current facility which, at the time, was the largest Harley Davidson in the world and were among the highest volume dealerships in the United States.  Mark Barnett, Sherman's son, has worked in the dealership since graduating college and now runs the operation. His siblings, Curt and Kim, are also heavily involved in both the El Paso and Las Cruses branches.  The dealership hosts multiple events throughout the year and supports many El Paso charitable organizations. 


Barnett Harley Davidson and Cancer
Causes that fund breast cancer research has long been among Barnett Harley Davidson's philanthropic contributions. During Chia's interview with Mark, she had the opportunity to find out why supporting cancer organizations is so close to Mark's heart. Mark shared that after several trips to a "Doc in the Box" and an astute nurse, he was diagnosed with AML leukemia. 
"Your world, very quickly, gets turned upside-down", said Mark.
He then spent nine months at MD Anderson away from home, family, friends and work which compounded the anxiety and uncertainty that accompanies a cancer diagnosis. Cancer does not discriminate.  It affects rich, poor, young, old, male, female and all races. Thankfully, Mark's cancer was caught early and he remains cured 17 years later.  However, Mark says that he lives a little more carefully now.  He makes sure to get his check up twice a year and stresses the importance of early detection.


Lucha vs Cancer
Through Mark's cancer journey and his love of the highly entertaining Lucha wrestling, the Lucha vs Cancer event was born. Chia's Silver Lining's non-profit was the recipient of the proceeds from the October 2021 event.
Mark  feels it is very important to have an organization like Chia's Silver Lining to support cancer patients when their world gets turned upside-down. Through the generous support of Barnett Harley Davidson and other community sponsors, Chia continues our non profit mission of education, comfort, compassion and community support and outreach.
Through community support and compassion, there is always a silver lining. 
Thank you Mark Barnett and Barnett Harley Davidson for recognizing and supporting the efforts of Chia's SL.  We are looking forward to the Lucha vs Cancer event kicking cancer's butt!