Nourish Your Skin With Skinny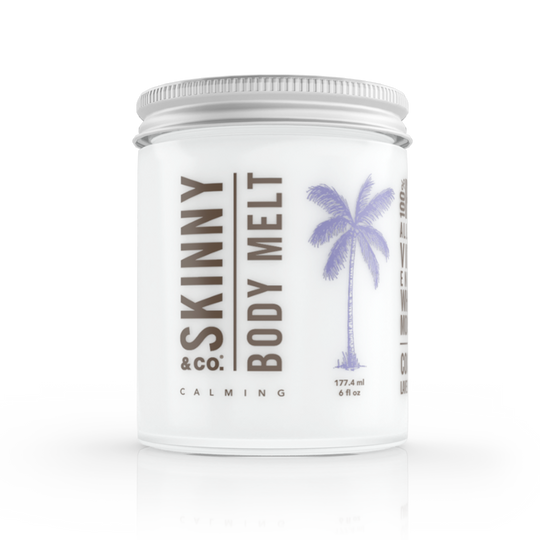 With the cold season around the corner comes dry skin, chapped lips, and dry hands. If you are going through radiation or chemo treatment the effects of winter can be worse! Sometimes we keep applying moisturizer and we never seem to overcome that dry, itchy skin.  We have the answer! Our Skinny products offer cold-weather solutions for your entire body!  
We are so proud to recommend The Skinny product line for all your moisturizing needs. Do you know why it is called Skinny? Because the products have 5 or less ingredients! Full transparency – no hidden ingredients or harmful chemicals disguised as "fragrance".  Better yet, coconut oil is one of nature's wonders and one of its many benefits is being very light and moisturizing. You can use it as a hydrating lotion on your hands, arms, legs, face - your whole body. The added bonus? Coconut oil smells good!  We recommend trying our Calming Lavender Almond Body Melt for locking in moisture after your shower or bath.
Chapped lips are not only a nuisance, but can be painful. Skinny Coconut Oil based lip balms in Calming Lavender, Rejuvenating Sweet Orange or Clarifying Peppermint is a great alternative to petroleum jelly based lip balms, and it doesn't feel heavy like petroleum jelly can. Soon your lips will feel like they did back in the summer. 
Lastly, try our Cleansing Balm as a combination makeup remover and facial cleanser that unclogs pores as it reduces the appearance of fine lines and wrinkles while also moisturizing your skin. It brightens dull, stressed, and overtaxed skin while delivering soothing and nourishing nutrients. Skinny's Rejuvenating or Calming Cleansing Balm & Makeup Remover is your gateway to healthier, balanced skin and is great for aging skin.
At Chia's Silver Lining our product mission is to do the research on all the products we carry and strive to bring you beautiful, affordable products that will  not only help your recovery from dry skin, but also will not add any additional harm  to your skin with hidden ingredients or chemicals. Your health, wellness and recovery are always on our minds.