My Two Cents by Victoria Gregory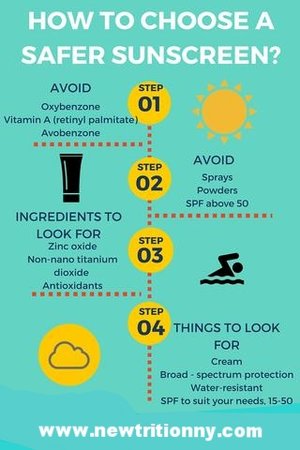 MY TWO CENTS
Here's my personal criteria for selecting a safer sunscreen. The sunscreen must:
Protect against the sun effectively (this includes broad spectrum protection and water resistant properties)

Use non-toxic and safe ingredients and without nanoparticles that I would feel safe using on my own child, and

Not leave you looking shiny and silver, like many of the safer, zinc-based sunscreen options out there

 
MY PERSONAL FAVORITE SAFER SUNSCREEN
There is no sunscreen that can block out all of the sun's rays, so it's clear that the best sunscreen is a hat and a shirt. By covering the skin, you don't have to worry about burning, chemicals, or reapplication. However, that isn't always realistic and we have to depend on sunscreen when we go to the beach or when we play sports, etc.  So in addition to following the above six rules when choosing a sunscreen, it is important to check out the EWG SKIN DEEP database to see how your choice is rated for safety.  
For the past two years, I've been using Beautycounter Countersun sunscreens and am absolutely in love with the products. Formulated with non-nano zinc oxide, they not only offer powerful protection against harmful UVA and UVB rays, but they also protect against HEV BLUE LIGHT rays (not many other sunscreens do). Best of all, they go on streak-free without a chalky or milky residue.
Their line up includes the following products:
* Please note that I only write, rave about, and recommend products that I have comprehensively researched, personally use or have used, and absolutely love.
WORRIED ABOUT WHETHER YOU'RE GOING TO LIKE IT?
Don't sweat it. Beautycounter has amazing customer service and a 60-day, no-questions asked, return-shipping-free return policy.
So if you're like "HELL YES, let's make the switch!" but need some help, don't hesitate to reach out. And if you want some personalized skincare recommendations, just fill out this quick skincare quiz and I'll personally get back to you ASAP.
And if you subscribe to my weekly NewYousletter (below) and/or contact me to get discounts on Beautycounter, as well as some of my other favorite clean products, and I'll show you how to get FREE SHIPPING, product credit, and even a FREE GIFT on your first Beautycounter purchase.
A CLOSER LOOK
Acording to the EWG, the healthiest sunscreens contain non-nano titanium dioxide and zinc oxide.  And these just happen to be the active ingredients in Beautycounter Countersun products. So let's take a closer look at some of my favorites and why I am in looooove!
Dew Skin Tinted Moisturizer SPF 20
This is my everyday go-to. I'm super casual during the day. I usually live in my gym clothes and wear barely any make up. The only thing I put on my face after my All Bright C Serum and Countertime Skincare Regimen is the Dew Skin Tinted Moisturizer SPF 20, winner of Allure's Best of Beauty Award (I'll also throw on some brilliant brow gel and lip conditioner, but that's the extent of my make up on most days).
The Dew doesn't just serve to protect your skin from the sun, but it evens out your skin tone and moisturizes… all without any toxic ingredients. It's lightweight but "buildable" coverage leaves skin luminous and glowy (a quality our skin loses as we age).  Black currant, peony flower root extract, and vitamin C reduce the appearance of age spots and enhance skin brightness, while sodium hyaluronate promotes firmer, smoother-looking skin. I wear it even on days that I don't go outside (think months of quarantine) because my dermatologist explained that UVA rays can penetrate through glass and contribute to premature aging.
Countersun Mineral Sunscreen Lotion or Mist
Unlike many of the "safe" sunscreens, the Countersun Mineral Sunscreen Lotion is lightweight, water-resistant, and goes on smoothly, like a body lotion.  It blends into the skin quickly and seamlessly without leaving white residue and even helps hydrate your skin while protecting against damaging UVA, UVB and Blue Light.
I personally love it because it's easy to apply, goes on streak-free, smells great, and lasts a long time (I used mine all summer and still had a little left for the winter holidays).  Most importantly, I know that it provides excellent protection from the sun and does so without harmful chemicals, for which it has earned my trust and EWG's highest rating of 1 (on a scale from 1-10, with 1 being the safest, and 10 containing the most dangerous ingredients).
Oh, and it also comes in:
Travel size, which is great for taking it on the go

Air-propelled mist - If you love a spray, this a terrific safer alternative…. but please, even when using a safer product like this one, make sure to spray it in your hand first and then apply it. Not only is it polite and considerate but even safer products aren't meant to be inhaled!

TINTED mist, which makes you look like you have some color and hides all your imperfections

 
 Countersun Mineral Sunscreen Stick
This is one of my favorite sunscreen products. Shaped like a deodorant, it glides on easy without leaving any residue.
Here are my top four reasons for loving this stick:
It's super compact and fits in even the smallest purses. I have one in just about every bag I own in the event of a "sun-mergency."

It goes on completely clear (see video below) and is particularly useful for squirmy kids. You can even give it to your child to put on his or her own face or shoulders or chest. It's that easy!

No mirror necessary because there is nothing to rub in. You can slather it all over your face and have full confidence that you aren't sporting streaks all over because your husband hasn't noticed. 🙈

It's the perfect size for your face. You can feel it go on, so you won't get any extra in your eye, your nose, or your mouth.
In my humble opinion (or IMHO, as the cool kids say), the Countersun Sunscreen Stick is worth every penny because it's so quick and easy to apply, smells great, and lasts forever! Like all Beautycounter Countersun products, it provides excellent broad spectrum protection from UVA and UVB rays, and blue light!
ABOUT THE AUTHOR: Victoria Gregory is an Integrative Nutritionist and founder of NEWTRITION NEWYOU. Her focus—whether with private clients, readers of her blog, or her followers on social media— is whole body wellness, incorporating whole-food nutrition, supplementation, exercise, toxin-free living, and mindset coaching. Victoria's personal mission is to help make the world a healthier place, one person at a time, and she has helped thousands of people find joy and self-love through better eating habits and mindfulness.