Congratulations Valentine's Day CaringBand Giveaway Challenge Winners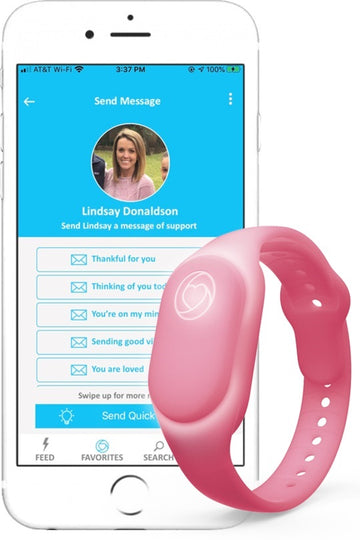 As part of Chia's Silver Lining community outreach and in partnership with CaringBand, we hosted the Valentine's Day CaringBand Giveaway Challenge.  We asked our community to submit their heartfelt stories on why they felt they or their loved one could benefit from a CaringBand. Our challenge was to choose the winners!
The CaringBand Bracelet lets loved ones encourage each other during the cancer journey. With CaringBand, you can see and feel the love, in real-time, right from a watch and cell phone app that's designed to be hospital safe. Turn those frequent thoughts into frequent encouragement with CaringBand.
Together with the companion mobile app, CaringBrand created the bracelet so you could encourage and be encouraged. As the COVID-19 pandemic isolates us, there has never been a more critical time to connect with loved ones safely. Encouraging thoughts will never be lost with the CaringBand bracelet and app. Plus, 25% of the profit goes to our non-profit, Chia's SL.
Congratulations to the top 3 winners of the CaringBand Giveaway Challenge Amabel Grajeda, Courtney Enriquez, Norma Rincon! We want to thank everyone that submitted your stories and want to give a special thank you to CaringBand for helping make this giveaway challenge possible for our community. 
Below are some of the heartfelt stories from our submission challenge.
Amabel Grajeda  
I lost my mother at very young age due to bladder cancer. I know the feeling painful, sad and hard road of any cancer patient and families have to go through. I would like to give this Caring Band to another Cancer patient n this Community. Thank you 
Norma Rincon
This is our sister Elsa, the eldest of 6 sisters. She was diagnosed with bone cancer. I'm the second eldest and the one to break the news to the sisters and parents. My sister is a warrior who gets up everyday to live life as normal as possible even though her body aches. I have a vivid memory of my sister hysterically crying while running around the doctors office when we were young scheduled to get our shots. My sister biggest fears are hospitals, shots and darkness. Those fears are what have made her a warrior woman in my eyes because she sits still during her chemo praying for better days . She sends all the sisters and parents inspirational quotes and prayer scriptures every morning. That's her way of letting us know she's okay and we will be okay. I love her so much. That's us two as little girls (Elsa on the right) Thank you
Courtney Enriquez 
Hello, I am interested in the caring band and saw it tonight on KFOX14 carpe diem. I have a grandma who was diagnosed with pancreatic cancer on Christmas Day 2020. Thank you 
Cecilia Levine   
CaringBand for my mother who is 93 years old is important during Covid isolation. Having 10 Children and 50 grandchildren and great-grandchildren, communication and togetherness is vital to well being.  She is the rock of the family and always says that she survived two wars, Spanish Flu, Great Depression but nothing like this horrible pandemic. The CaringBand helps break the sadness and isolation due to COVID. 
5 influencers:
Mayor Oscar Leesar (Skin Cancer Survivor)
Cristina Euastice (Throat Cancer Survivor)
Erika Castillo (Cervical Cancer Survivor)
Salvador Perches (Death Care industry)
Chia Wollschlager (Breast Cancer Survivor)