Tips for that Beautiful Face & Scrumptious Lips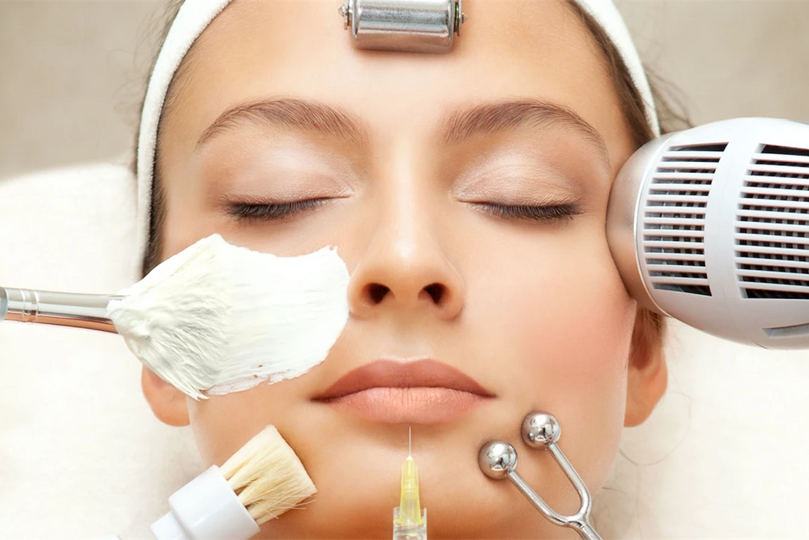 Cancer has a very negative effect on skin. The harsh chemicals from chemotherapy, the drying effect of radiation treatment, and just the body's increased cortisol production because of stress can cause serious skin problems. 
Patients can experience skin thinning, rashes and infection. These are serious complications that can make your cancer journey even more daunting. 
At Chia's Silver Lining, we believe that skin care is vital to recovery. Not only does healthy skin ensure that you're less susceptible to infections, but good looking skins reduces stress. By feeling good and looking good even during chemotherapy and radiation treatments, you'll be on a road to recovery with fewer health issues. 
Is this a cure all? No. But by focusing on all aspects of a healthy body, you'll put yourself into the mindset of being healthy and being in the driver's seat of your own health. And that focus is what you need to get over the really hard stuff. 
So what are the secrets? 
Secrets to a Healthier Looking Face
Secret #1: Wash Your Face.... a Lot

In the morning after you wake up, washing your face removes the dirt and bacteria that settles on your face when sleeping. There's also oil from your skin that builds up and debris from your pillow and sheets that  transfer to your skin while sleeping. Morning grime closes your pores and makes your skin less flexible, so a morning face wash is a habit you'll want to add.  
Before bed, you'll also want to remove all makeup and all the grime that builds up on your skin, such as smog, smoke, or dirt. Just like in the morning, your pores fill with dirt and grime attracted by your skin's natural oils. Ridding your skin of dirt before sleep relaxes your skin and body, just as you're getting ready to relax for sleep. 
Washing your face after sweating is also smart. Sweating closes pores and attracts dirt by releasing natural oils from your skin. By washing those off during the day, your skin looks more relaxed and brighter all day long. 
Secret #2: Wash Gently
Washing your face with harsh cleansers and with a bit too much effort makes your face red and irritated. Washing gently acts more like a massage, opening pores, keeping your natural skin color and allowing the skin to breathe naturally. 
We think that a gentle cleansing helps skin look its absolute best. 
To gently cleanse your face, wet it with lukewarm water. Then, apply your cleanser of choice in a circular motion with your fingers throughout your cheeks, nose, forehead and neck. Complete your routine by rinsing off the cleanser and patting your skin dry with your favorite soft, clean towel.
There's no need to be rough. Being rough exfoliates too much and may even cause your skin to be puffy and red. Think of washing gently as a massage done by someone who loves you.... You!
Secret #3: Limit Coffee but Use Caffeinated Eye Creams
Your best bet to reduce puffy eyes is to drop the morning latte and pick up some caffeinated eye cream. Caffeine from drinking coffee actually constricts the vessels beneath the eyes. This can cause them to appear darker and make you look more tired.
Instead, use an eye cream that includes caffeine in its ingredients. It increases blood flow without making you look like a raccoon, thus giving you a more youthful and awake look.  
Secret #4: Massage Your Face
Gentle blood flow is key to giving you a more youthful appearance. And nothing does this better than a self massage on your own face. 
A facial massage can boost circulation and help tone the muscles in your face and neck. Spending even just 5 minutes a night will help improve your skin's elasticity. Just like your body, the muscles in your face can become lazy with age. Adding this simple step to your routine will hugely improve the firmness of your skin.
To do a good facial massage, use kind, gentle movements. This is about loving your looks and your body, so there's no need to be rough or hurried. Just gentle, circular movements with the pads of your fingers for at least 5 minutes.
And consider playing some wonderful, relaxing music while you're massaging your face. It will put you in the mood to massage longer and to be even more relaxed. We love "Calmed by Nature" and bet that you'll love it too. 
Secrets to Healthier Looking Lips
Secret #1: Coat Your Lips with Lip Butter Before Applying Lipstick
Full, natural looking lips are healthy looking lips. That's what makes them attractive: they're healthy. And healthy means that your lips are fully moisturized. 
By applying lip butter before lipstick, your lips will be fully moisturized in spite of the lipstick. In fact, pairing your lipstick routine with lip butter ensures your lips are fully moisturized and then coated with a protective layer that guards against dehydration. It's the perfect pair. 
Apply a lip butter of your choice and then choose a lipstick. Be sure to avoid a "matte" texture for your lip butter as this tends to dry out lips when paired with lipstick. Instead, try a crème or satin finish. 
Secret #2: Like Your Face, Wash and Massage Your Lips
Gently scrubbing your lips helps get rid of dead skin cells and leftover makeup. It also helps your lip balm penetrate and re-balance the lipid layer that lies just under your lips.
There are two steps to effectively clean and renew your lips:
Using a damp cloth or soft-bristled toothbrush, gently rub off any leftover makeup residue, dead or dry skin. This technique will also boost the circulation to your lips, but go easy. You're not trying to pull off layers of skin or make your lips tender. You're just trying to give your lips a soft massage. 

Once you're done rubbing your lips, apply a hydrating lip butter or conditioner to lock in moisture. When going outdoors, consider applying a lip butter that has an SPF to protect your lips from the harmful sun. 
Secret #3: Moisturize with Aloe Vera or Vitamin E
When using Aloe Vera, you can purchase a pure Aloe Vera gel or even crack a leaf from an aloe plant in your home for this remedy. Aloe Vera is a natural remedy against skin problems because it contains glycoproteins and polysaccharides. The glycoproteins speed the healing process in the skin by acting as an anti-inflammatory. The polysaccharides stimulate skin growth and repair. Together, they make a natural remedy for your lips that's hard to beat. 
You can also use straight vitamin E on your lips as a powerful way to regenerate and heal. Vitamin E boosts circulation and may even help generate new skin cells to make your lips softer.
To use, simply cut open a liquid vitamin E capsule and apply to your lips. 
Looking for a Lip Butter? 
Chia's Silver Lining sells a full line of lip butter in grapefruit, citrus and key lime flavors. All of our lip butters are protected with SPF 30. Click here for our full line of lip butters.