Active Wigs for Cancer Patients, Redefined... Interview with Allison of Encelia Hair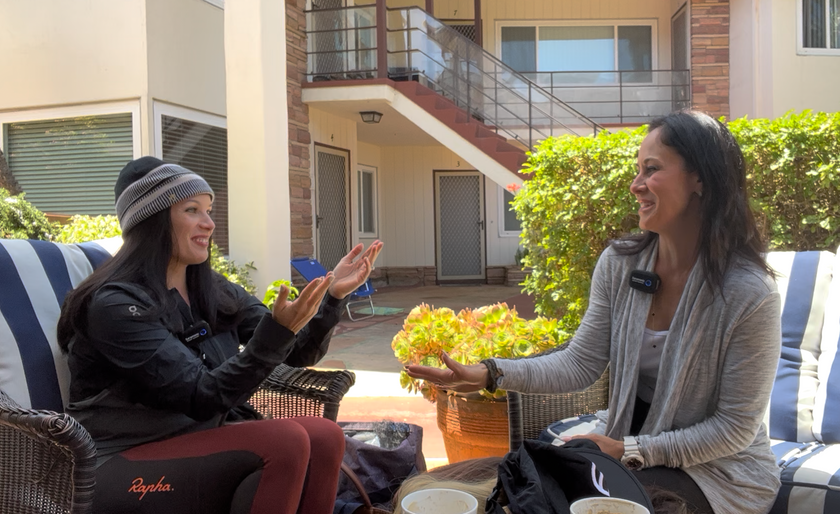 An Interview with Allison, Owner of Encelia Hair
Allison Ombres developed Alopecia Universalis (AU) during her second pregnancy. Suddenly, she needed wigs, but the wigs she found on the market were poorly made and mass-produced. That lack of quality inspired her to design stylish, comfortable products for the "modern baldie".
Chia Wollschlager, founder of Chia's Silver Lining, met with Allison to discuss how her wigs could help cancer patients who still want to be active .
Allison talked about how she created her company, Encelia Hair, how she found an ethically sourced supply of human hair for her wigs and some of the impacts she'd made on the lives of women with cancer. 
Please see below for the full video or an edited transcript.  
Video Transcript:
Chia: I have to tell you this story. I'm Chia, and a couple of weeks ago, I get a call and this lovely person calls me out of the blue with a product that we cannot live without. And that's the story of Alison from Ecelia Hair. I'm so excited to hear your story. So, tell me a little bit about how this product came about because I believe that out of adversity comes a solution. And you're like like the model, literally the model of this product.

Alison: The name of my company is Encelia Hair, and I have complete and total hair loss. I developed hair loss in the eighth month of my second pregnancy with my son.
It was obviously life altering, just like cancer can be for so many of us. And I struggled with a lot of things, but I saw myself like a lot of my clients, just letting go and stop doing things that they loved to do, like working out, going to the gym, doing yoga, dancing.
I had one client that stopped doing softball because she was worried about her wig coming off when she took her helmet off. Another client didn't want to go camping anymore.
And so I just got frustrated with not having a solution. For women with hair loss, there isn't really anything very comfortable for us to wear to be active in. And, so I designed a an active line of wigs, like a workout wig, which I'm wearing right now. It's so comfortable, you can sleep in it.

Most wigs? You don't even want to wear them for an hour. Other wigs, like mine, it's a zip and go hat system.
Tonsure: Source of Wig Material
Wait. I'm super excited about this wig, so I have to show it off. To me, the wig you're wearing really brings you back to life. So start with this one because you look gorgeous.

This is the workout wig. It's made by women in India who were previously getting cancer from making tobacco products. It's fair trade certified. The hair is Indian temple hair. So, it's what I call ethically sourced hair.

I didn't even know that that existed in India. And I love that you like to talk about your ethics and morals and and how you've made the decision to make this product in India. I think that's really important to understand that these women in India are also helping other women worldwide. It's full circle.

It's real hair, human hair given by women willingly in the US who tincture their hair or give their hair up after going through a religious process. It's 100% hand tied. There's a pull cord, so you can adjust the tightness of the wig.

It's double lined with a really soft mesh, and it's seamless. So just think of seamless bras.
No Wig Itch
The whole base is double lined, so there's no inversion that occurs. What do I mean by that? If you've ever had a haircut and your stylist doesn't wipe the hair away, then it's itchy. That's what inversion feels like in a wig. It's just those little hairs that poke through that really make it itchy.

This keeps it nice and soft and comfortable? I think that's really important. 

And it also just takes a lot of the hard bits about a wig. Like the hardest part about wearing a wig is the front. A lot of women spend so much time thinking with the lace fronts like, does it look real? And this is just so easy to throw it on and you don't have to worry about any of that stuff.

I would never know in a million year that you are sitting here with me wearing a wig. And I love that it looks so young and fresh.

I think that's important. Did doctors ever ask you what your lifestyle was like before you chose certain surgeries or options? Nobody asked me. Yeah, but I did yoga every day, and I did workouts every day, and to think that all of that might be coming to an end was scary. But yeah, you've given everybody hope for continuing their lifestyle.
Continue to Be Active with the Right Wig
Tell us about this one (Pointing to a wig on display.)
Awesome. So this is cycle hat, a zip-and-go hat system. All this is patent pending and all that jazz. But you can wear under a helmet. I can put it on for you if you want, but basically there's one hairpiece that zips in here, so it can zip into the three hats that come with it. It's made in Italy and you can wear a helmet on top.
So you don't have to give up your activities. That's that's what I love. You don't have to you have to give up your your even your style. And now with COVID mostly over, people are more out and about. And so cycling has grown. So it gives you an option for cycling. So then it brings us to the next activewear.

Yes. So then this is what I call the surf wig. It's a floatable water hat so you can wear it in the water or you can just wear it during the day. It's really, really breathable. The hottest part of the wig is the top. And so by not having a top, it's super breathable.
With all these pieces, there's a strap here so it can strap down and you can secure it.
Surfing Wigs Actually Exist
Secure, yes. Boating activities or because we're in sunny California right now, right behind us is the beach. And so this is very pertinent.

Yes. four months ago, I went surfing for the first time. But it's a pretty easy system. You just pull it over the hat in the back here and then you can adjust it. I like my piece to be super tight, but you can bond it on. You can use wig tape and all that stuff if you want.

And since it's secure, you don't have to worry about the hat flying off.

I love how it has the adjustment in the back, so you can just loosen it. It looks beautiful. Tell me about the hair a little bit.

For this model, it's not human hair. This is called a euro fiber hair. It's a synthetic. It's similar to European hair. It has a special coating on it so it doesn't fade in the sun and doesn't tangle as much, whereas most synthetics are very tangling.
It just looks so natural.

Yeah. And then, if you wet this wig, it looks wet. Most synthetics actually repel water. Right? This looks like real hair. It gets wet, which was important for water.
How Much to Wigs Cost?
Yeah, a water wig. But because of that, what's the pro and con between the price tag? I'm just curious how does that work?

The human hair workout wig starts at $1,100 and goes up to $1,800. So human hair is quite expensive. And then the base of this is 100% hand tied. So we can wear this any way we want. We could do French braids, top knots, braids, all that stuff, whereas this piece (the wet wig) is closed lifted so it's very comfortable. But we can't we can wear ponies and stuff like that, but it's weft it so it's more durable.

The old double lined material isn't going to come back in.

It's really, really more durable. And the price point on this is about $300.

As opposed to $1,100 or $2,000. This is really important.
The Wig that Stopped Living Life
Could you tell the camping story because I think that really hits home.

Yeah. So I ran a consulting business for two and a half years before I started developing products, and I have a client who was in college. Her parents purchased about a $4,000 wig for her. And anyway, she stopped camping because she was worried about the wig. She didn't want to ruin the wig. And she just really felt the burden that such an expensive wig comes with.
There's a lot of things that have happened to me throughout my journey where I would just think "things are so wrong." And to me, not going out and camping and living her life is not okay. And so, I in my mind, I believe that was a failed product.

If it was doing what it should have done, it should give them the opportunity to continue their lifestyle because when we are diagnosed with something, the last thing we want to do is stop living. I think we want to just live even harder and better.

You want to live your best life. But what happens to so many women is that they become so consumed with their hair loss or their cancer and (their misery).
Throughout the days when I designed this, I wanted a moment free. Like, I just wanted to work out the way I used to and not think about my hair loss or my wig. Yeah. For an hour. Yes.
Wigs and Sex
Another story that hits home -- and I think it's important to address it -- is sex. Yeah. With or without a wig. What do you think? As we grow up, we're still young and we want to feel feminine and beautiful. And I think that's important because when I got cancer, I realized a lot of that was stripped from me, and I wanted to bring that back to women. The beauty, the inner beauty, the outer beauty and becoming beautiful after something so hard. So tell me about that.

Exactly. It's it's one thing to be intimate in normal life, but you strip away the other elements and it makes it even harder. I ran across a really well known blog or podcast called the "Women's Hair Loss Project", and the author wrote a post about having your intimate wig on or wig off. And I mean, my response immediately was wig on. I feel more in my element in hair. And if I'm going to be intimate, I like the feeling of being feminine, and it just feels like me. And I don't think there's any shame in that at all.
But the majority of the response from the women on the comments were "wig off" because it's not comfortable. I'm itchy, and they didn't feel like they could relax and be themselves with their wig off because their wigs are too damn expensive. My husband's not worth it. Yeah.
And it just, like, was one of these defining moments where I was like, "that is terrible". These women are not saying they don't want it. They are saying they can't have it, and they don't deserve it. And there's a lot of things that have happened to you and have happened to me where you just walk away and say, "I have to do this."
Yes, this is just not right. And maybe I can suffer through it. But they're suffering through it as well. And let's try to.
How to Feel Beautiful with Cancer
So, make a difference.
Well, you said something really important, too, that in our day we already, as women, have a lot on our plates. I mean, we work, we have families. There's just so much in life that the last thing we want to be is consumed with the burden of how am I going to wear an uncomfortable wig.
How am I going to make this work? How do you wear your mask? How do you wear your glasses? And you find that it just it bogs you down with the simplest things in life.
And so this product (picking up another type of wig) makes everything simpler. This one's beautiful, too. Tell me about this one. Of course, I love it.

It matches the beanie wig. There are a lot of beanie wigs out there on the market, but a lot of them are just really bulky and uncomfortable. The hats that come with them are really itchy too.

But I love the concept too of how they are interchangeable. You can select your lifestyle with a couple of styles so you're not limiting yourself and then you zip it in.

Yeah, zip it in. If you wanted four different colors, you could buy four colors and three hats and change it up. This one's a little bit floppy, so it's a little harder to get on.

Everybody has their own preference for being someone.

This is really easy and it keeps your head warm.


Where can we find your wigs?
Right now, my website is
Encelia Hair
, and I'm reaching out to big boutiques all across the US and just trying to get it very local, really personal shops so people can go in and look at them and try them on. I'm very much a feely sort of person and buying hair online is hard, especially for the first time. So being able to try it on and see the different colors helps.
And
people can find them at Chia's Silver Lining
, we want to be able to offer this to everybody that is going through a debilitating illness. And there's nothing wrong with looking beautiful and feeling beautiful through all of it.