4 Skin Loving Benefits of Coconut Oil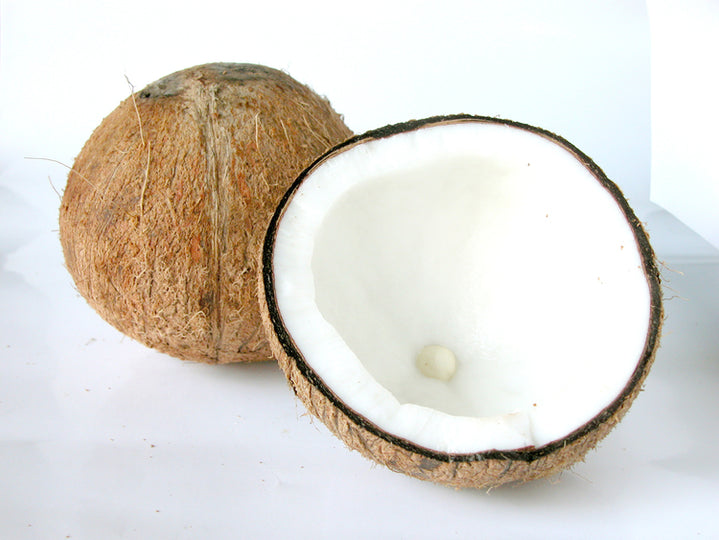 Coconut oil is one of Mother Nature's best kept beauty secrets.  It has long been touted as being one of the healthiest foods on the planet helping with weight loss, heart disease and the immune system. What you may not know is this tropical trooper is also a miracle ingredient for natural beauty treatments. The coconut tree is considered the "tree of life" in much of Southeast Asia, India, the Philippines and other tropical locations.  There are over 1500 studies proving the health and beauty benefits of coconut oil. 
Here are 4 ways coconut oil can leave your skin baby soft and beautiful!
1. AS A NATURAL MOISTURIZER FOR DRY SKIN 
No one likes dry skin and that's where coconut oil comes in! Medium chain fatty acids (MCTs) provide humectant properties for the skin. What does this mean? MCTs in coconut oil help to hydrate while preventing moisture loss through the skin, since coconut oil helps to provide a protective barrier on the skin's surface. Once you've tried a lotion with coconut oil and see what it does for your skin, it's pretty hard to ever look back!
2. AS A NATURAL MOISTURIZER FOR PROBLEM SKIN
Coconut oil may provide intense hydration to very dry skin, but it can even be used on acne prone skin without causing further breakouts. This may seem confusing as we're often led to believe that oil will only cause more oil! The fact is, though, that coconut oil contains Capric acid, Caprylic acid and Lauric acid, all of which offer powerful antimicrobial properties. This simply means they help to heal wounds quickly as well as keep the skin clean and disinfected which is very important when dealing with an inflammatory skin condition such as acne.
3. TO NATURALLY FADE SCARS AND STRETCHMARKS
Let's be honest, scars and stretch-marks can make any woman feel self-conscious! The truth is that all of us have them, even though some are more visible than others. They can be hard to prevent and may seem even harder to treat. What's your best defense? Vitamin E! This powerful antioxidant rich vitamin is essential for tissue repair and will help to both prevent and fade scars and stretch-marks so that they are hardly noticeable. Coconut oil is a great source of Vitamin E and the best part is that it's completely natural! Thank you Mother Nature!
4. TO KEEP YOUR SKIN YOUNG AND RADIANT
Model, Miranda Kerr, swears by consuming a tablespoon of coconut oil every day for a keeping her skin youthful...and it's easy to see why! Antioxidants in coconut oil help to fight off free radicals, which are the main cause of aging. Free radicals come from many sources, most notably unhealthy food and environmental pollution. Vitamin E helps to fight off those free radicals by repairing skin and restoring collagen which keeps your skin plump and glowing. Coconut oil is the consistent ingredient in all our hand and body lotions at Natural Inspirations, alongside Shea butter for an intense moisturizing boost! We do not believe in chemicals or synthetic ingredients, but rather providing you with natural ingredients compliments of Mother Nature. Coconut oil and Shea butter form the perfect hydrating base that will leave your skin deeply hydrated and silky to the touch. 
Our lotions come in 4 unique, fresh essential oil-based fragrances with a fragrance free option for sensitive noses. 
Apply our Lavender Ylang Ylang lotion at night and say goodbye to a stressful day as you drift off into dreamland!
The delightfully crisp blend of Agave nectar, fresh Citrus and delicate Pear will leave your skin deliciously scented.