Blog posts 3 Reasons to Change Up Your Deodorant with the Seasons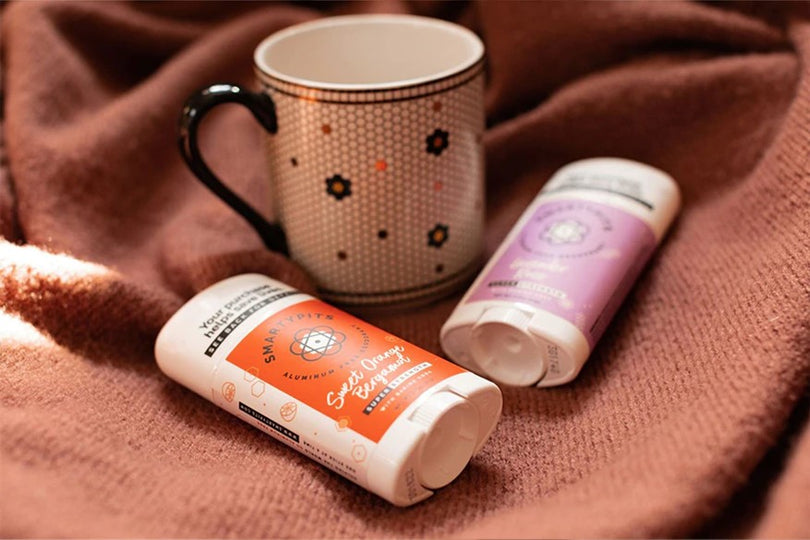 There is something invigorating about the changing of the seasons. Maybe it's the change in wardrobe or maybe it's the unconscious mental shift of a fresh start – either way, it can be a good time to start shopping for your next favorite deodorant.
Some people may want to stick with their favorite go-to scent. Others may resist wanting to try something new, but here are 3 reasons we think you should consider it!
It can be nice to "smell like the season"

 

– Just like cooler weather can suddenly make you feel like it's time for cozy sweaters, scented candles, and homemade soup in fall and winter, your deodorant scent can match the weather. As warm summer afternoons give way to crisp fall mornings, a warmer, rich scent like Citrus Clove or any of our limited edition fall scents such as Pumpkin Spice and Apple Harvest are perfect options to consider. You'll not only feel warm and cozy with your sweaters and soup, you'll smell warm and cozy too.

In spring and summer, you may want to lighten things up with a bright, fresh, and even somewhat tropical scent. Popular picks for the warmer months are our best-selling Coconut Mango or Grapefruit Cardamom or from our limited edition spring collection our Grapefruit Splash and Tropical Paradise.


It can be good for your skin

 – 

 It's true! Certain skin chemistries can sometimes become less responsive to natural deodorant after a while, so switching it up with a seasonal scent might be all you need to start smelling sweet again! Then you can go back to your favorite go-to with the next change of season. Who knows, you may discover a new favorite. 




It can be a good time to try a different formula

 

– If you're a tried & true Super Strength Formula user, the cooler weather could be a good time to try out our baking-soda-free formula. Baking soda is a super powerful odor absorber, but for more sensitive skin chemistries, that strength can also be a bit too powerful for long periods of sustained use. Just like how some scents can become less effective for your body as your skin chemistry changes, it's also possible for people to develop baking soda sensitivities

. Consider using the cooler months of the year, where concern for excessive sweating might not be so worrisome, to give your body a break from the baking soda.  
With more than 20 scents to choose from, there's sure to be a scent option that fits your season. And while you're at it...the changing of the seasons is also a great excuse to give our pit rebalancing treatment a try! A deep cleaning treatment for your pits, it's a great way to give your underarms a rejuvenating exfoliation and "reset.". It's also perfect for people who have experienced baking soda sensitivities and need a soothing recalibration for their skin.
So...what scents will you try with the change of the season?