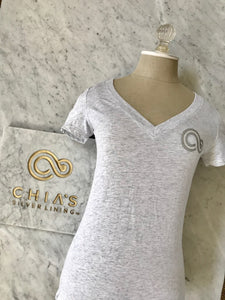 The proceeds from purchasing the Chia's Silver Lining T-Shirt A unique care package gift for cancer patients will go directly to support our monthly Meet-ups. 
The mission of these events is to gather cancer patients and their loved ones to promote information sharing and create a community of healing and comfort.  The monthly evening events will be hosted by a business also vested in this healing journey.  Each meet-up will represent a different theme of education and wellness with guest speakers, presentations and activities.  Patients, survivors and their loved ones will also have an opportunity to share their story in a healing manner.  Each attendee will receive an Attendance Appreciation gift as well as food and refreshments.
Women's t-shirts have a feminine fit.
*runs small